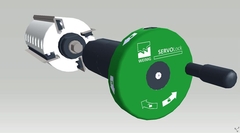 A high degree of user-friendliness is a hallmark of WEINIG moulders. In the new ServoLock aid, we set standards once again.
ServoLock makes the clamping of drilling tools more convenient than ever. Previously, a spindle nut would have to be loosened and tightened with a combination wrench. Handling such a key is awkward because the direction of rotation cannot be precisely defined. Loosening and tightening the spindle nut also requires a high amount of force to reach the specified torque of 80 Nm.
This is precisely where WEINIG ServoLock comes into its own. A planetary gear ensures significant reduction of the manual effort required. WEINIG ServoLock also has an in-built slipping clutch that, similarly to a torque wrench, ensures that the spindle nut is always tightened with the correct torque. The direction of rotation is marked with arrows to make handling easier. A further benefit is the saving in setup time via the rapid loosening and clamping of the spindle nut. ServoLock replaces the traditional tool wrench and can be used with most WEINIG moulders. No adaptation of the machine is necessary. You can order your ServoLock now directly from our Web shop.
Conact Viking Machinery to demo the ServoLock.