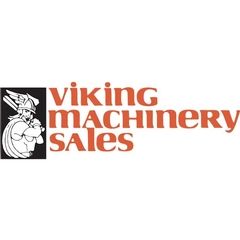 Viking Machinery was founded in 1960 by Ted Jesson in Rockford IL. The company served primarily the Woodworking Industry for new and used machinery, tooling and consultation services in Illinois, Iowa, Wisconsin, and Minnesota. In 1976 Michael Weinig was interested in setting up an agent network in the United States and chose Viking Machinery as one of the first agencies to promote and sell their line of moulders. Viking soon became one of Weinig's top agencies and to this day is a certified Weinig Group Agency.
Upon the passing of Ted Jesson in 1993 Mike Janco and Jack Satterthwaite took over ownership of the company maintaining the same service and trust that our customers had come to respect. Ken Fenton joined Viking in 2000 and when Jack Satterthwaite chose to retire in 2011, Ken bought Jacks share of the company. In 2016 when Mike Janco chose to retire the ownership of Viking Machinery chose to dissolve the corporation and Ken Fenton became the sole owner of Fenton Sales LLC dba Viking Machinery Sales.
Although the corporation changed names the same integrity and service that allowed Viking Machinery to flourish for so many years hasn't changed. Our commitment to our customer's satisfaction is the driving force behind how we conduct business.