Cross-cutting –a simple process with more benefits than you might think - increased productivity, value creation, protection of resources and, not least, profit. Ultimately, every work piece must be cross-cut at some point during production. With an OptiCut from the Dimter Line you can automate and optimize your lengthwise cross-cutting, guaranteeing you reliably high daily performance and production quality.
Opticut S90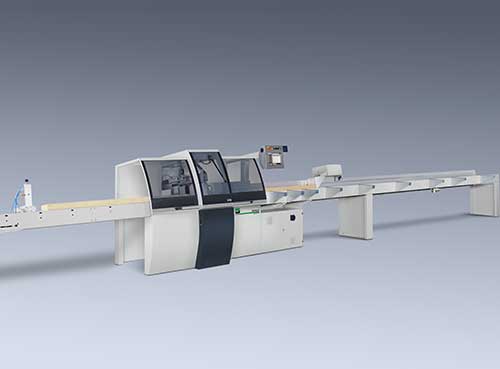 Improve your value creation from cross-cutting - cutting precision, flexibility and optimal safety - the automatic optimizing cross-cut saws with positioning pushers of the DimterLine OptiCut S 90 series offer all of this combined with high productivity. Whether cutting single boards or packages of boards, profiles or rods in solid wood, panels or even plastics, modern operations need this flexibility - in fixed-length cutting, when cutting out defects and for optimization.
The Dimter Line series offers you innovative mechanical engineering from cross-cut saw specialists combined with state-of-the-art control technology and software - everything from a single source. You can decide on the level of equipment and extension, whether a single machine or fully-automatic linked cross-cutting line with integrated work piece recognition - now or later. Flexibility is retained at all times – e.g. via the "manual cutting" function.
All machines in the OptiCut S 90 series can be easily operated for the OptiCom terminal. Create a cutting list and off you go! Operating safety is also guaranteed under extreme conditions And another advantage: Customers of DimterLine machines benefit from the service of an experienced manufacturer and the security of the worldwide presence of WEINIG. Learn More
OptiCut 200 Series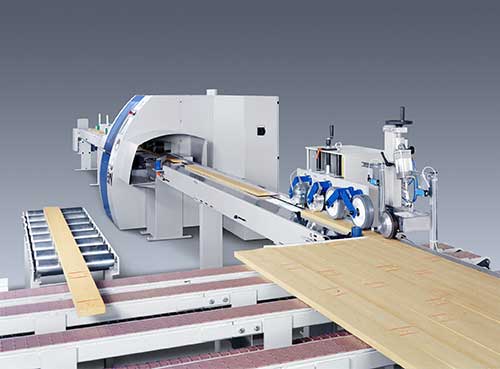 Profitable cross-cutting is guaranteed with the high-precision DimterLine OptiCut 200 series. To achieve maximum value creation, the OptiCut 200 series optimizing cross-cut saws not only cut out defects, they also calculate the best possible length combination from the available fixed lengths and cutting list. This guarantees maximum recovery and/or optimal value from your material. Finger-jointing lengths are fully integrated into the optimization and up to 8 different wood qualities can be classified. The wood simply has to be marked and placed into the machine infeed. The horizontal alignment makes this work stage much easier. Of course, you can also integrate fully-automatic defect detection (scanner) into the cutting line. Learn More
Opticut 450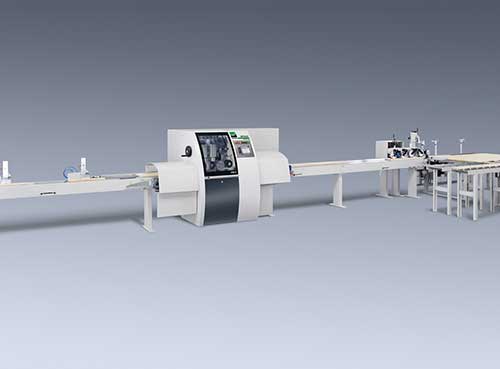 The OptiCut 450 series from the WEINIG DimterLine offers high-speed optimizing cross-cut saws for all industrial requirements. Select from our OptiCut range from simple to fully-automatic solutions. Position, cut and sort at rapid speed – and all of that with optimal recovery. Modern operations need this performance – for fixed-length cutting, when cutting out defects and for optimization. They are not only the fastest but also provide reliability, accuracy and complete user-friendliness. Once set up, they are immediately profitable in high-performance, continuous operation – the machines of the technology leader from the DimterLine.
The innovative machine concept of the top models of the DimterLine OptiCut 450 series enables feed speeds up to 550 m/min. Precise positioning at full speed and re-acceleration is performed at up to 50 m/s2. By way of comparison: Formula 1 cars take almost three times as long just to accelerate! A cut takes just 0.068 seconds - the blink of an eye! Learn More