Width cutting, generally referred to as ripping, combined with longitudinal cutting, represents the first processing stage in all solid wood processing. Thus, it constitutes the foundations of efficient and modern production. Errors in (width) cutting, such as wood losses, missing quantities or excessive stock levels permeate the entire subsequent production process and have a lasting, negative effect on operating results.
Modern and efficient cutting is, therefore, indispensable. WEINIG provides optimal machine concepts to fulfill this requirement. From the small workshop to the fully-automated production line.
UniRip 310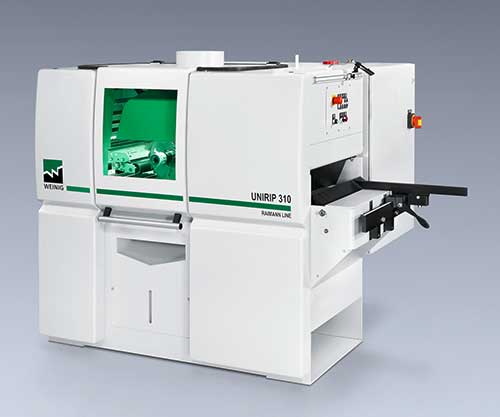 The new UniRip 310 is the ideal multi-blade rip saw for small operations with high standards in quality and a focus on simple applications. The new multi-blade rip saw impresses with its robust design and ease of operation. With a cutting height of up to 110 mm and high feed speed, the machine is suited to a wide range of tasks. The patented QuickFix system takes care of retooling in no time. Attractive pricing with a strong standard model and a number of intelligent options.
VarioRip (up to 2 movable blades)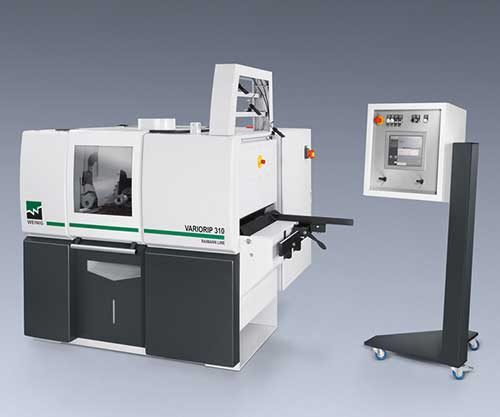 The compact, robust VarioRip is the ideal machine for small and medium-sized operations. Whether as a multi-blade or optimizing rip saw, the new VarioRip 310 impresses even in the standard version with high-quality equipment and excellent user-friendliness. The patented Quickfix quick clamping system enables rapid retooling.
SafetyPlus, developed and patented by WEINIG, ensures optimal operator protection.
Upgraded with up to two automatically adjustable saw blades, the VarioRip offers an intelligent entry into wood optimization. The modular design allows the VarioRip to be optimally adapted to every requirement.
ProfiRip (up to 6 movable blades)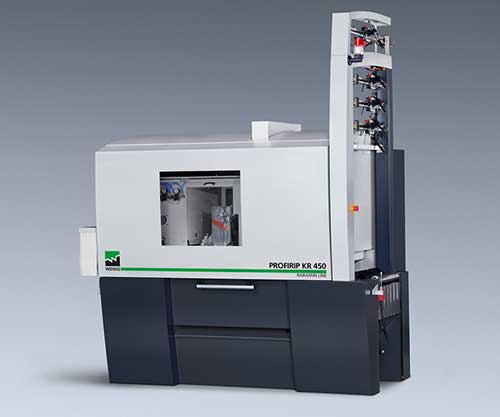 Width cutting plays a decisive role in solid wood processing, for rip optimizing means cost minimization. Whether producing slats or finished material, as a cutting unit for glued panels or for wood optimization, ProfiRip is the ideal solution for increased productivity with outstanding wood recovery. Excellent user-friendliness, the shortest setup times, optimal profitability. Whether as an optimizing rip saw or a pure multi-blade rip saw. The system's versatility makes it ideal for all operations – from interior fittings to the furniture industry and from solid wood panel production to the sawmill.
Greater flexibility and intelligent system solutions are the core themes for our developers today. We deliver the right concepts. Our outstanding system components allow continuous operation to the highest standard. In addition to the standard models, we can also produce customized solutions in all performance classes. It is that easy to make your ProfiRip into a high-performance system!