Leading edge.
A great deal of effort goes into sanding perfect surfaces while edges are often regarded as second priority. We at Kündig see this differently - edge quality is just as important as surface quality. So why shouldn't an edge sander be as heavily constructed as a widebelt sander? Why shouldn't it use the same advanced technologies? The Kündig Uniq series edge sanders do justice to the need for edges that are just as perfect as the rest of the product.
All Uniq edge sanders are characterised by their massive machine body. Because of the above average weight the Uniq series of edge sanders are remarkably stable, even when working with very long and heavy workpieces. Also vibrations are suppressed almost completely which is an important factor in high precision edge sanding.
The oscillation feature works differently than in common edge sanders and doesn't involve tilting of the drive rollers. In fact, the Kündig Uniq's whole sanding unit assembly moves up and down - the sanding belt is utilised more evenly, constantly adjusting the table is needless - the working height stays fixed.
Kündig Uniq
Edge sander
All edge sanders of the Kündig Uniq series are very heavily constructed and offer a stable working station.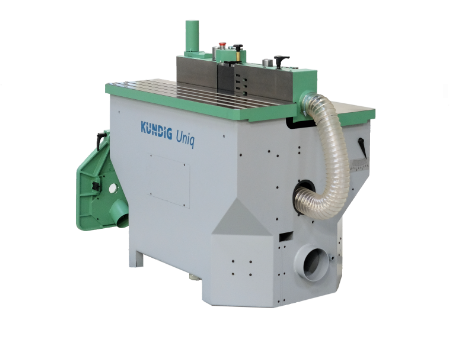 The Uniq series offers a wide array of practice-oriented features: It has a heavy cast iron working table on one side for solid wood sanding, along with a similar one on the other side for veneer sanding, they can be used simultaneously. The height adjustment and the tilting (up to 45°) of the sanding unit assembly are motorized and no adjustment of the working tables is required. To ensure perfectly even use of the sanding belt, the unit has an oscillation stroke of 90 mm (3.5 inch).
Uniq-S
Edge sander with conveyor
It's a great advantage to have a conveyor belt for edge sanding. It's much easier to pass the workpiece along the sanding belt. Getting "wavy" or dented edges is almost impossible.
A smooth lower conveyor belt (upper belt for pressure beam optionally available) is gentle on the workpiece surfaces, its speed is infinitely variable. The machine has one working station on each side which can be utilised simultaneously. Every Kündig Uniq offers the possibility to mount abrasive bobbins and a table extension to use the drive roller for curved workpieces.
The Uniq-S is the perfect allrounder and can be used for almost every task with great precision, from solid timber to veneered pieces.
Uniq-SL
Edge sander for lacquer edges
The Uniq-SL is the only edge sander with an actuated sanding pad similar to wide belt sanders.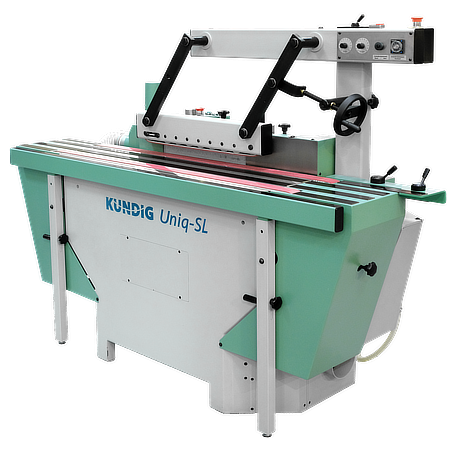 This electronically controlled, pneumatic pad is spring loaded and adheres to those delicate high gloss edges smoothly. Its activation can easily be accelerated or delayed in order to prevent rounded or damaged corners.
The infinitely variable conveyor belt and sanding belt speed allow for a perfect fine tuning to the lacquer that is used. Thanks to its sensitivity and precision the Uniq-SL is, according to the statements of experienced users, without alternative in its field.